Zelk's Flagship
Timeline Change Imminent!

---

This article or section contains information that no longer applies to the current version of Star Trek Online. It is provided only for historical purposes.
Zelk's Flagship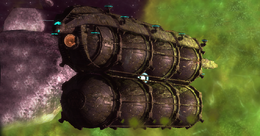 Zelk's Flagship is a Malon Battleship commanded by a Malon Commander around 2410.
"Argala System Patrol": Upon entering the Argala System, the player is deputized by the Benthan Guard to assist in drawing out Zelk so that he can be arrested. After his Flagship is disabled, the Benthans send over boarding parties to take Zelk and his ship into custody.