As part of the Unified Community Platform project, your wiki will be migrated to the new platform in the next few weeks. Read more here.
Zarva

Zarva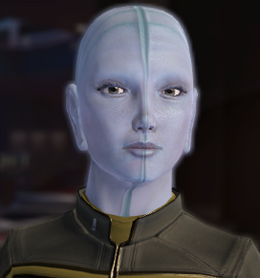 Profession(s):
Information giver
Chief Engineer
Ensign Zarva is a Bolian Starfleet cadet and part of the Academy class of 2409. She is serving as acting Chief Engineer of Captain Masc Taggart's training cruise.
"Graduation Day": Shortly before their departure, Cadet Zarva toasts with the rest of the training cruise crew. Being relieved that her intense studies of the Miranda's technical schematics can come to use, she then informs the player that she was assigned as the ship's Chief Engineer.
"Field Promotions": Zarva informs the player that Engineering is running diagnostics after getting systems back online following the Klingon attack. Zarva also assists with the repair of the S.S. Break Even, but informs the player that the ship's plasma injectors are beyond repair, forcing the player to salvage injectors from derelict ships. Zarva then officially joins the player's crew as a bridge officer.
Her voice actress was changed some time during 2019.