Zaria System

Zaria System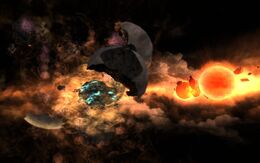 The Zaria System is a system located in the Raveh Sector of the Alpha Quadrant.
There is no life native to this system.
Alpha Zaria 30 is a hot G-class star that is very similar to the star at the center of the Sol system. However, it was not always so. The star was a cooler Class-K star in the early 22nd century.
Deferi scientists believe that the neutral metals in the core of the star came in contact with a source of protomatter, igniting the star and increasing its core temperature significantly. The resulting explosion destroyed the two worlds in close orbit with the star.
Red giant
There aren't any anomalies in the system.
"Out in the Cold": The Breen have installed a mining installation in the System to harvest the Dilithium from the core of Zaria.