Y'Kel

Y'Kel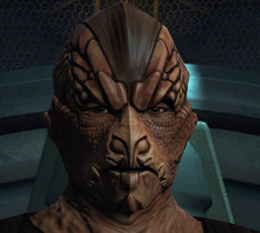 Profession(s):
Bounty Hunter
Y'Kel is a male Hazari. He claims to be the captain of a cargo freighter, but is in fact a bounty hunter.
"Rivos System Patrol": The player answers a distress call from Y'Kel's ship. While retrieving Y'Kel's cargo, the player is attacked by Malon scavengers. The original distress signal turns out to be a ploy to collect a bounty on the player. When the player repels the Hazari attack, Y'Kel reveals that the contract was posted by Qwen.
"Dust to Dust": Y'Kel joins Delta Alliance efforts to repel a renewed Vaadwaur ground invasion on Kobali Prime.