Wayfarer (Kobali Vessel)
Timeline Change Imminent!

---

This article or section contains information that no longer applies to the current version of Star Trek Online. It is provided only for historical purposes.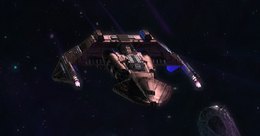 This page is for the Kobali Frigate Wayfarer. For other vessels of the same name, check page: Wayfarer.
The Wayfarer is a Kobali Frigate.