Voth Frigate
Incomplete and/or missing data.


This article or section does not list all values or entries associated with the discussed subject. Please add any missing statistics or items to the corresponding tables, lists and placeholders.

"Voth Frigate"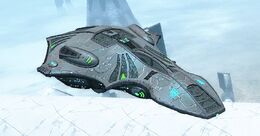 The Voth Frigate is not an actual starship, but rather a decoy employed by some Voth Palisade Frigates, with the altered name indicating the vessel is a fake.