Vendor Station
Timeline Change Imminent!

---

This article or section contains information that no longer applies to the current version of Star Trek Online. It is provided only for historical purposes.
Vendor Station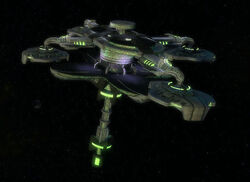 Vendor Station is a Romulan Star Empire scientific space station in orbit of Vendor II, located in the Alpha Centauri Sector Block. The station is under the directive of Commander Selok. The station is engaged in medical and scientific research; current projects include development of a vaccine for Terothka virus, methods for identifying Undine in humanoid form, and analysis of the purpose of Undine isomorphic injectors.
---