Valoth

Valoth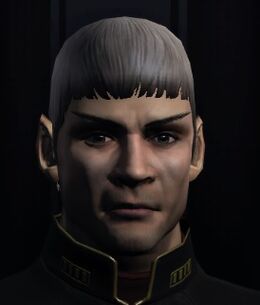 Profession(s):
Mission giver
Valoth is a male Vulcan and an Admiral in Starfleet in charge of coordinating Starfleet's efforts to assist in the colonization of New Romulus.
Valoth is a believer in Spock's vision of reunification between Vulcans and Romulans, and volunteered to be the liaison between the Federation and D'Tan.
Originally, Valoth could be seen wearing the command red Admiral's uniform from the 2360's as seen in the first season of

Star Trek: The Next Generation

, with a Vice Admiral rank insignia. Following the November 30, 2012 patch however, his uniform was updated to a current version in operations gold with a full Admiral rank insignia, then again to the standardized Fleet Officer variant of the Odyssey uniform.