Vakyat Aggressor

Vakyat Aggressor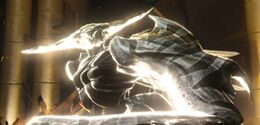 A Vakyat Aggressor is a rank 2 Hur'q ground mob, first encountered in "Turn the Tide" (for Jem'Hadar players) and "Storm Clouds Gather" (for all other factions).
See Hur'q for more information about the species in general.
Vakyat Aggressor, the most common primary Hur'q race, are bipedal insectoids with germanium carapaces.