Vaadwaur Assault Vessel
This page is for the NPC starship. For the playable vessel, see Vaadwaur Manasa Assault Escort.

Assault Vessel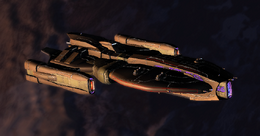 The Assault Vessel is a frigate design used by the Vaadwaur Supremacy in 2410. They represent the bulk of the Vaadwaur fleets. This highly maneuverable attack crafts possess tremendous offensive capabilities along with remarkable durability due to their powerful shields.
| Level | Normal Difficulty | Advanced Difficulty | Elite Difficulty |
| --- | --- | --- | --- |
| 60 | 51 622 | 113 569 | 404 978 |