User:Varnent
Greetings - my name is Greg. I'm a member of Stonewall Fleet's Wiki Task Force and happy to be a contributor to the STO Wiki project! :)
IRL I do work for a queer youth advocacy org and live with my partner of 4+ years and our two dogs.

aequalitas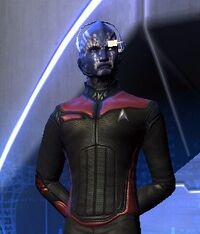 Rank:
Lieutenant Commander
Starship:
U.S.S. Bayard Rustin (92420-C)
Profession:
Tactical Officer
Lieutenant Commander aequalitas is a member of the Stonewall Fleet and the current commanding officer of the U.S.S. Bayard Rustin (92420-C) which is an Original Constitution class ship.
Aequalitas, pronounced "ike-que-toss" is Latin for "evenness; equality (of age/status/merit/distribution)". In usage during the game my character always uses a lowercase variation.