User:Ipuvaepe/USS Pittsburgh (NCC-94941)

U.S.S. Pittsburgh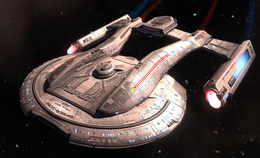 Torpedo: High Yield is a very effective ability for space combat in both PvP and PvE. It allows players to deal massive damage to an enemy's hull if their facing shield is down. Shields hugely reduce the damage done by the torpedoes, but the torpedoes themselves do lower shield strength and this ability can still be used effectively against a shield facing that is low. The first torpedo will blast the shield away while the other(s) will hit the hull directly (except for Plasma).
Cannon: Rapid Fire improves your next cannon attack. Quickly fires numerous bolts. Each bolt does less damage then a normal cannon shot.
Cannon Scatter Volley
Emergency Power to Weapons boosts your ship's Weapons power level and Energy Weapon damage for 30 seconds. With its short cooldown and usefulness in pretty much all combat situations, this ability quickly becomes a staple for your Engineering Bridge Officers.
Auxiliary to Battery drains your ship's Auxiliary power levels and equally distributes it to your Weapons, Shields, and Engines power levels. If you're not interested in saving your Aux power for abilities or turn rate, this provides a reasonable, albeit brief, boost to your ship's capabilities.
Tachyon Beam drains an enemy starship's shields. It is useful in both PvE and PvP. Increases in effectiveness based on current auxiliary power level.
Feedback Pulse fires a pulse of energy back at the attacking ship every time you are hit by energy weapons. Effectiveness is based on the current auxiliary power level.
Tactical Team (also sometimes referred to in-game as Security Team) is an ability that is useful removing Tactical debuffs. It also provides the player with a reasonable boost to projectile weapons and energy weapons. Finally, it will also help counter the Boarding Party ability.