User:DJ Chim/Starfleet Academey Blastapaloza
Starfleet Academy Blastapaloza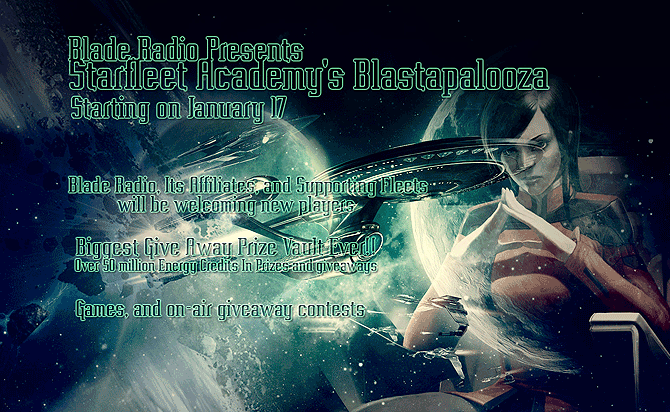 Introduction/Event Summary
Welcome to the Star Fleet Academy Blastapaloza Free 2 Play event.We DJ's here at Blade Radio have come up with an event so large that it will cover not one or two days but a whole week. That's right from Jan. 17th through the 23rd we will be having giveaways, contests and the much loved prizes to go with them.So tune in and listen to Blade Radio Star Trek Online for further details and to stay posted.


Giveaways
We are giving away a long list of prizes compromising over 13 fleet banks worth of items. Here are just a few That have been scavenged, scrounged, and gathered by your friendly Blade DJ's:
A few Aegis sets consoles
Weapons
Exp skill boosts
Duty officer packs
Millions in energy credits
Give Aways/Games
The giveaways for prizes are going to be done by having DJ trivia and a daily PvP event for a larger prize.


How To Enter/Compete/Win Prizes
To enter tune into STO streams at Blade Radio for the trivia giveaways and show up with your team on the set dates for the PvP events.
How To Help / Who To Contact

You may e mail DJ Chim here for more details:
chim@bladeradio.com
Any and all donations are always greatly appreciated

Locations
Jan.17th-20th At Earth Space Dock



DJ Schedule
To Be Announced Soon



Links

Welcome I am DJ Chim,
  I Captain the U.S.S. Aggamemnon. I am a Star Fleet Engineer and I am here to bring to all Fleet Captains a Challenge or Tournament if you will. The prizes are millions in Energy Credits, 8 Hour Skill Bonuses and, much, much, more...
We Have our own subspace channel always streaming the best music through the ages. Come and listen atBlade Radio Star Trek Online. We Are "The Cutting Edge In Holodisk and just plain Gaming Entertainment."
I have now 3 days of shows Mon-Wed. 5AM to 7AM PST.
Since Star Trek Online is going free to play Blade Radio Star Trek Online will be having a week long event. From Jan 17th and the following 7 days. Lots of prizes, recruitment for the station and the fleets who support if you would like to be involved feel free to email me at chim@bladeradio.com.