U.S.S. Warwick
Timeline Change Imminent!

---

This article or section contains information that no longer applies to the current version of Star Trek Online. It is provided only for historical purposes.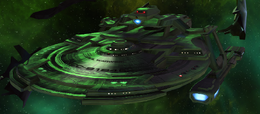 The U.S.S. Warwick is a ShiKahr-class frigate with a crew complement of 220.
"Ghost Ship": The Warwick has come under attack on survey in the Great Bloom. When the player arrives to investigate, the crew has mysteriously vanished.