U.S.S. Vesta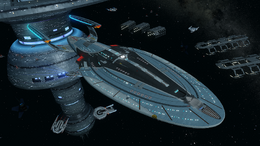 The U.S.S. Vesta is a Vesta-class explorer and prototype of her class.
Following her commission, the Vesta is the representative of her class in the ship selection screen. ( "Welcome to Earth Spacedock")
The Vesta was likely named for the Roman goddess Vesta.
All Vesta-class starships bear this vessel's name and registry by default.