U.S.S. Stargazer (NCC-2893-A)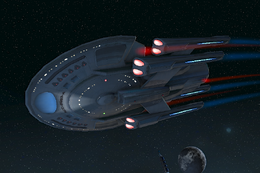 The U.S.S. Stargazer-A is a Stargazer-class cruiser in service to Starfleet in 2409. She was named for the U.S.S. Stargazer, a Constellation-class vessel commanded by Captain Jean-Luc Picard in the mid-24th Century.
This Stargazer is commanded by Captain Roma Giordano.
See Federation Cruiser.
All Stargazer-class starships bear the Stargazer-A's name and registry by default.