U.S.S. Redoubt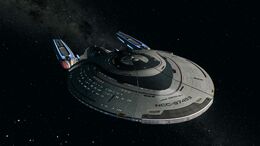 The U.S.S. Redoubt is a Guardian-class cruiser in service to Starfleet in 2410. In that year she is one of several vessels patrolling the Sol System near Earth Spacedock.
The U.S.S. Redoubt occupies the position formerly held by the U.S.S. Odyssey. She can also be seen passing by exterior windows by players in the Operations area and Club 47 on board Earth Spacedock.
The Redoubt is the first NPC Guardian-class cruiser to appear in the game.