U.S.S. Rademaker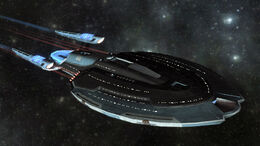 The U.S.S. Rademaker is a Rademaker-class explorer and prototype of her class.
Following her commission, the Rademaker is the representative of her class in the ship selection screen. ( "Welcome to Earth Spacedock")
The U.S.S. Rademaker is named after Mark Rademaker, the designer of the Vesta-class for the

Star Trek: Destiny

novels.