U.S.S. Planck
Timeline Change Imminent!

---

This article contains information that no longer applies to the current version of Star Trek Online. It is provided only for historical purposes.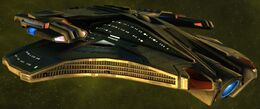 The U.S.S. Planck is a Hermes-class Escort that can be found in the Battle Group Omega fleet in the Noro Sector. It is probably named after the Scientist Max Planck.


United Federation of Planets
U.S.S. Barrett (Exchange) • U.S.S. Carnegie (Bank) • U.S.S. Chapar (Mail) • U.S.S. Borland • U.S.S. Felczer • U.S.S. Forrest • U.S.S. Hendrickson • U.S.S. Houston • U.S.S. McDonough • U.S.S. Montgomery Scott • U.S.S. Planck • U.S.S. Samoa • U.S.S. Satie • U.S.S. T'Kumbra • U.S.S. Tomlinson • U.S.S. Victory


Klingon Empire
I.K.S. Chang • I.K.S. ChoS • I.K.S. ChuQun (Bank) • I.K.S. Jorn • I.K.S. Marr • I.K.S. M'Wur • I.K.S. Q'thoq • I.K.S. Ramjep (Mail) • I.K.S. Taral • I.K.S. T'Nek • I.K.S. Wek (Exchange)