U.S.S. Obsidian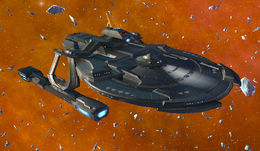 The U.S.S. Obsidian is a Federation Frigate.
Jay Yim was stationed on the Obsidian when the Khitomer Accords broke down in 2399. At that time, Captain Sewell organized shuttle races and a velocity tournament to keep morale up.
The Obsidian was also the first assignment of Jirelle Kav.
Missions formerly involved
[
edit
|
edit source
]
"Suspect": In 2409, Franklin Drake is aboard the Obsidian when telepathic members of the ship's crew begin attacking their fellow officers. Drake escapes in a Runabout with an experimental telepathy suppressor, and enlists the player's help in helping the crew. In the meantime, the Obsidian is attacked by the True Way Alliance in the SPR-5195 System. After defeating the Cardassians, Drake joins the player's away team to subdue the crew and administer the telepathy suppressor. Later, Drake admits that he suspects Captain Carna of being an Undine infiltrator, and that proximity to the Undine is the cause of the telepaths' madness. The entire mission is later to revealed to have been a Holodeck simulation orchestrated by Drake to test the player's loyalty. It is unclear whether the actual Obsidian was involved in the mission at all.
Current
Former