U.S.S. Keller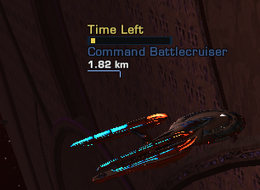 The U.S.S. Keller is a Geneva-class battlecruiser that was part of Captain Kagran's all-out assault on the Herald Sphere.
"Broken Circle" : Just as the player arrives at the Herald Sphere, Captain Kyla Mex reports that the Keller is losing warp containment. The player rescues the Keller before entering the Herald Sphere.
The Keller model is only labeled "Command Cruiser" in Broken Circle, however, it can be assumed that this vessel is the Keller, since Captain Mex reports that she needs to fall back, if the player is unable to rescue the ship in time.
The Keller was probably named after American authour and activist, Helen Keller, who became the first deafblind person to earn a Bachelor of arts degree.