U.S.S. Intrepid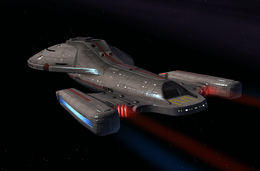 The U.S.S. Intrepid is an Intrepid-class Science Vessel in service to Starfleet in 2409. She was the first ship of her class.
In 2379, the Intrepid joined Battle Group Omega to face the I.R.W. Scimitar; however the Scimitar was destroyed before the Intrepid could join the battle. (Star Trek Nemesis)
"Terradome": During the briefing, it is stated that the Intrepid disappeared near the NGC-2447 System a month prior. She is believed to have been destroyed by the Undine.
In missions involving any number of Intrepid-class vessels not involved in the episode's storyline, all of these ships are labelled as U.S.S. Intrepid.