U.S.S. Indianapolis Captain
Timeline Change Imminent!

---

This article or section contains information that no longer applies to the current version of Star Trek Online. It is provided only for historical purposes.

U.S.S. Indianapolis Captain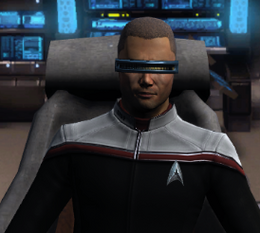 The Captain of the U.S.S. Indianapolis is a Human Starfleet officer in service in 2409. He wears a VISOR.
"The New Link": The Captain is eager to show the Jem'Hadar "what Stafleet's made of!" in the battle of the Orias System. The task force defeats the True Way ships but the Indianapolis suffers from multiple systems failure. Her captain orders the crew to abandon ship, which explodes shortly after.
His name is not revealed in the mission.