U.S.S. Icarus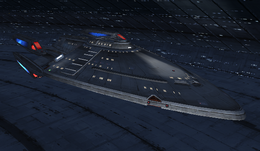 The U.S.S. Icarus is a Prometheus-class battleship in service to Starfleet in 2410. In that year she is one of several vessels docked inside Earth Spacedock.
No name or registry number is visible on the hull; however they are displayed on a graphic in Admiral Quinn's office.
This vessel was named for Icarus from Greek mythology.