As part of the Unified Community Platform project, your wiki will be migrated to the new platform in the next few weeks. Read more here.
U.S.S. Hermes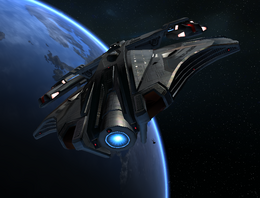 The U.S.S. Hermes is a Federation Escort in service to Starfleet in 2409.
She usually appears as a Hermes-class starship, but in the ship selection screen at Earth Spacedock she also appears as a Maelstrom-class.
See Federation Escort.
In missions involving any number of Hermes-class vessels not involved in the episode's storyline, all of these ships are labelled as U.S.S. Hermes.