As part of the Unified Community Platform project, your wiki will be migrated to the new platform in the next few weeks. Read more here.
U.S.S. Griffin
Timeline Change Imminent!

---

This article or section contains information that no longer applies to the current version of Star Trek Online. It is provided only for historical purposes.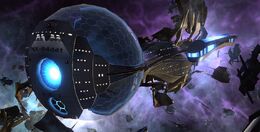 The U.S.S. Griffin is a Horizon-class Science Vessel commanded by Captain Tarak in 2409.