U.S.S. Enterprise (NCC-1701-A)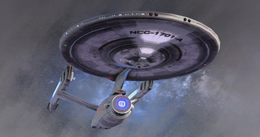 The U.S.S. Enterprise-A was a refit Constitution-class Cruiser launched in 2286 to replace the U.S.S. Enterprise, which had been destroyed three months earlier.
The Enterprise-A served Starfleet for seven years. In that time she participated in a number of missions, including a journey to the galactic core and a race to save the Khitomer conference. The latter was especially important, as it paved the way for many decades of peace with the Klingon Empire. She was decommissioned in 2293, and her successor (the Enterprise-B) was launched later that year.
Former Crew Members (Selection)
[
edit
|
edit source
]
A plaque depicting the Enterprise-A can be seen inside starbases whose fleets have completed the special project "History and Movement". The plaque, however, depicts the starship in the 25th Century Constitution-refit style, which bears little resemblance to the look of the ship in the Star Trek films.