U.S.S. Constitution
Timeline Change Imminent!

---

This article contains information that no longer applies to the current version of Star Trek Online. It is provided only for historical purposes.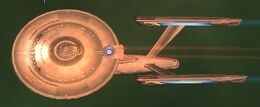 The U.S.S. Constitution is the lead vessel of the Constitution-class cruiser. The Constitution was in service to Starfleet in 2409.
See Federation Cruiser.
This ship is the successor to the U.S.S. Constitution of the 23rd Century. The original Constitution may have been named for the United States Navy vessel of the same name.
All ships of the class bore the Constitution's name and registry by default until the visual revamp in 2017, at which point the name and number of the original Enterprise became the default.