U.S.S. Chimera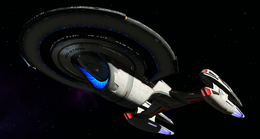 The U.S.S. Chimera is a Chimera-class heavy destroyer in service to Starfleet in 2410 and lead ship of her class. The ship is commanded by Captain Nog.
All Chimera-class starships bear this ship's name and registry by default.
This ship is likely named after the monster from Greek mythology.
As of Victory is Life Captain Nog and the U.S.S. Chimera will be encountered in place of Captain Vo'Lok of the U.S.S. Renown, with Quark replacing the Unnamed Ferengi.