U.S.S. Centaur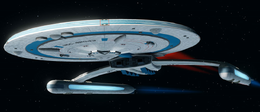 The U.S.S. Centaur is a Centaur-class Frigate active in 2409.
See Federation Frigate.
In missions involving any number of Centaur-class vessels not involved in the episode's storyline, all of these ships are labelled as U.S.S. Centaur.
The Centaur appeared in the

Star Trek: Deep Space Nine

episode "

A Time to Stand

".