U.S.S. Bogota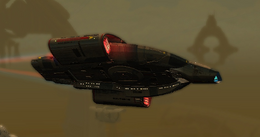 The U.S.S. Bogota is a Defiant-class Escort under the command of Captain Joseph Stroud in 2409. She is assigned to the Solanae Dyson Sphere.
"Gap in Defenses": Captain Stroud asks the player to pretend to be disabled while the Bogota cloaks, in hopes of luring Voth ships to the area.
Captain Stroud refers to his vessel as the Rio Grande in dialog.
The U.S.S. Bogota is likely named after the capital city of Columbia.