Tuulemaan

Tuulemaan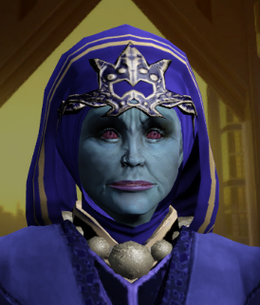 Profession(s):
Information giver
Prime Minister Tuulemaan is the leader of the Kentari people.
"Mirrors and Smoke": When the player and Kuumaarke discover New Kentar, Tuulemaan calls off an initial attack by her people. She identifies herself as a Reformist who wants to improve her people's way of life. After being betrayed by her Traditionalist Minister of Defense, Pentaaro, Tuulemaan pledges to support peace between her people and the Lukari.
"Fusion": Tuulemaan reflects on the fact that their recent encounter with the Lukari, and reliance on alien assistance against the Tzenkethi, have increased the popularity of the Traditionalists. Realizing that her planet is doomed without Lukari assistance, she knows that convincing her people of that fact will be challenging. One of her deputies, Waantel, delivers a message from the Lukari Planetary Council - they have agreed to establish an embassy on New Kentar, and to allow the Kentari to establish one on Lukari Prime.