Toreth

Toreth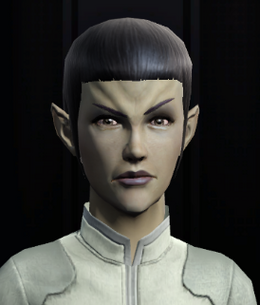 Profession(s):
Duty Officer Assignment Giver
Special Items Vendor
Mission giver
Toreth is a Romulan scientist working for the Romulan Republic in 2409.
Toreth works as a scientist on New Romulus in 2409, where she is the lead scientist examining the native Epohhs. Players can help her do her investigation by accepting a daily mission.
Icon
Name
Price

10

Romulan Marks
1
Epohh Research
[

Epohh Pup - Forest

]
5
Epohh Research

50

Romulan Marks
1
Epohh Pup - Forest

100

Romulan Marks
1
Epohh Moppet - Forest

200

Romulan Marks
1
Epohh Adult - Forest

400

Romulan Marks
1
Epohh Elder - Forest
Icon
Name
Price

10

Romulan Marks
1
Epohh Research
[

Epohh Pup - River

]
5
Epohh Research

50

Romulan Marks
1
Epohh Pup - River

100

Romulan Marks
1
Epohh Moppet - River

200

Romulan Marks
1
Epohh Adult - Forest

400

Romulan Marks
1
Epohh Elder - River
Icon
Name
Price

10

Romulan Marks
1
Epohh Research
[

Epohh Pup - Mountain

]
5
Epohh Research

50

Romulan Marks
1
Epohh Pup - Mountain

100

Romulan Marks
1
Epohh Moppet - Mountain

200

Romulan Marks
1
Epohh Adult - Mountain

400

Romulan Marks
1
Epohh Elder - Mountain
Icon
Name
Price

10

Romulan Marks
1
Epohh Research
[

Epohh Pup - Ruins

]
5
Epohh Research

50

Romulan Marks
1
Epohh Pup - Ruins

100

Romulan Marks
1
Epohh Moppet - Ruins

200

Romulan Marks
1
Epohh Adult - Ruins

400

Romulan Marks
1
Epohh Elder - Ruins
Icon
Name
Price

10

Romulan Marks
1
Epohh Research

100

Romulan Marks
1
Evolved Epohh Moppet - White

200

Romulan Marks
1
Evolved Epohh Adult - White

400

Romulan Marks
1
Evolved Epohh Elder - White
Icon
Name
Price

10

Romulan Marks
1
Epohh Research

100

Romulan Marks
1
Evolved Epohh Moppet - Black

200

Romulan Marks
1
Evolved Epohh Adult - Black

400

Romulan Marks
1
Evolved Epohh Elder - Black
Icon
Name
Price

10

Romulan Marks
1
Epohh Research

100

Romulan Marks
1
Evolved Epohh Moppet - Yellow

200

Romulan Marks
1
Evolved Epohh Adult - Yellow

400

Romulan Marks
1
Evolved Epohh Elder - Yellow
Icon
Name
Price

10

Romulan Marks
1
Epohh Research

100

Romulan Marks
1
Evolved Epohh Moppet - Purple

200

Romulan Marks
1
Evolved Epohh Adult - Purple

400

Romulan Marks
1
Evolved Epohh Elder - Purple