Thomas Marrone

Thomas Marrone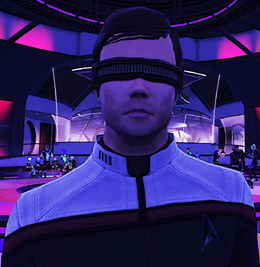 Captain Thomas Marrone is an officer located in the dancefloor area of Earth Spacedock's Club 47.
Then-Commander Marrone used to be located in the lounge area of Memory Alpha where he provided information on Dabo and the new 'blue-on-blue' LCARS design, claiming it increased efficiency by 4.07%.
"Legacy of Romulus Dev Blog #8": Commander Marrone informs all Commanding Officers of Starfleet that a fleet-wide update to the LCARS interface will be coming in about a month.
Thomas Marrone is named after the Cryptic UI artist Thomas "thomasthecat" Marrone. Although the current character in Club 47 is just called "Marrone", his predecessor version on Memory Alpha had the full name.
The character had temporarily been removed from the game beginning with the shut down of Memory Alpha with Season 9.5 until the release of the revamped Club 47 several weeks into Delta Rising.
Thomas' official position, though not mentioned in game, is commanding officer of the U.S.S._Pathfinder, which was designed by his namesake. [source]
Two versions of his Mirror Universe Counterpart are available in the Foundry.