Tekara System
Tekara System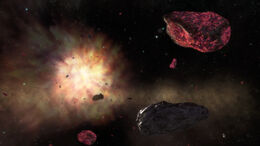 The Tekara System is a system located in the Devore Sector of the Delta Quadrant.
The Tekara system features three stars - two neutron stars orbiting a much larger class A light blue star. Astronomers believe that neutron stars were once part of another system, but after a supernova their orbit drifted until they caught in the gravity of the Alpha Tekara star. The arrival of the twin neutrons changed the orbits of Tekara Prime and Tekara II, turning the once L-Class worlds into Y-Class "demon" planets.
"Taking Care of Enemies"

"Tekara System Patrol": The player finds a Malon outpost where Captain Valak has been trying to put the waste reclamation technology left by the U.S.S. Voyager 35 years earlier into use. As such technology is considered an economical menace by many powerful Malon, the small refinery station then has to be defended against attacking Malon ships and their Hazari mercenaries.