As part of the Unified Community Platform project, your wiki will be migrated to the new platform in the next few weeks. Read more here.
Technician
For the duty officer specialization, see Specialization: Technician.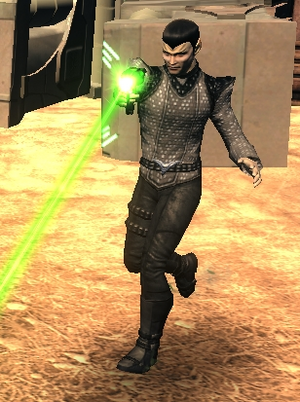 A Technician is a member of the Romulan Star Empire military and the Tal Shiar. They are outranked by Uhlans and Sublieutenant Medics. Only male Technicians have been encountered so far. Their strength and capabilities are similar to Romulan Recruits and Romulan Analysts.
Level
Standard Difficulty
Advanced Difficulty
Elite Difficulty
Shields
Health
Shields
Health
Shields
Health
11
n/a
n/a
n/a
-
n/a
-
12
n/a
n/a
n/a
-
n/a
-
15
n/a
n/a
n/a
-
n/a
-
21
n/a
n/a
n/a
-
n/a
-
41
n/a
n/a
n/a
-
n/a
-
45
-1
443
n/a
-
n/a
-
51
n/a
n/a
n/a
-
n/a
-