Tarol

Tarol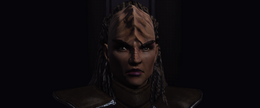 Military Rank:
Lieutenant Commander
Profession(s):
Chief Engineer
Lieutenant Commander Tarol is the irascible Klingon Chief Engineer of the I.K.S. Bortasqu'.
Tarol is an uncompromising and exacting chief engineer, who compares herself to the laws of nature in terms of absolute unyielding nature. Because the hazards of space do not accept errors, neither will she accept errors from her engineering crew.