Target Alpha

Target Alpha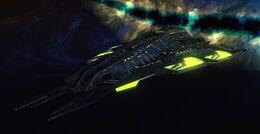 "Target Alpha" is the Romulan Republic's designation for an Elachi S'golth Escort active in 2409.
Target Alpha has no weapons available when under control of the player, and cannot attack other Elachi ships.
Target Alpha's fate is uncertain as the player is again commanding their own ship during the Battle of New Romulus with no official mention of Target Alpha being scuttled or added to the Flotilla.