Tanjan
Tanjan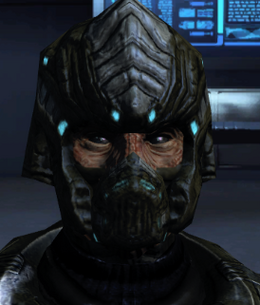 Alpha Tanjan is a Hirogen hunter who is mentioned during the events of "Empress Sela".
Tanjan is also one of the many NPCs found at the Captain's Table.
Missions formerly involved
[
edit
|
edit source
]
"Hunting the Hunters": Alpha Tanjan is a Hirogen hunter who captures the player and away team during in the Mylasa System. He is the commander of a Hunter Escort, The Stalker. Tanjan conducts a hunt on Mylasa IV by setting up elaborate trials for his prey. He makes the player complete a series of trials to determine the worthiness as prey in his crew's hunt. Nearing defeat, Tanjan tries to escape aboard The Stalker. The Alpha dies when his ship is destroyed.