As part of the Unified Community Platform project, your wiki will be migrated to the new platform in the next few weeks. Read more here.
TR-116A Rifle - Sniper Rifle
TR-116A Rifle - Sniper Rifle
Rare Ground Weapon
Bind On Pickup
Unique - Max of one per character
Values do not reflect skills or other modifiers
TR-116A Rifle - Bolt
Kinetic Damage
36 Kinetic Damage (51 DPS) (20% Shield Penetration}
TR-116A Rifle - Sniper Shot
Exploit Attack
Damage and Knockback
– Does Not Require Line of Sight –
96 Kinetic Damage (9.9 DPS) (20% Shield Penetration}
50% chance: Knocks back +8 feet
Value: 0

The TR-116 rifle is a hand-held rifle-type weapon, a projectile weapon developed by Starfleet Security for use in dampening fields or radiogenic environments where conventional energy weapons would be useless. The rifle fires a chemically propelled tritanium bullet. A working prototype of the weapon was developed, but Starfleet opted not to produce the weapon after the advent of the regenerative phaser.
A player can equip the TR-116 Sniper Rifle into one of the two ground weapon slots. The TR-116 is a rare projectile weapon useful against dampening fields and in other challenging environments. It is also modified with a micro-transporter, which beams the fired projectiles to targets at close range past any obstruction, so that a player can fire without a direct line of sight.
The sound effect when the rifle is fired is unique - similar to the muffled sound made by a silenced gun - and because the rifle deals Kinetic damage not associated with an Energy type, it does not require remodulation, making it useful against Borg.
See Also: TR-116B Sniper Rifle (Crafted Version)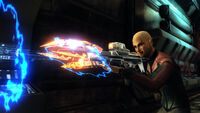 Players who preordered the game through Target or Game.co.uk, or purchased a specially marked version of the game at a Target store, can claim the TR-116a via the "Legacy Unlocks" tab of the C-Store.
There are four factors that can affect personal weapons. These are Modifier suffixes, spent Player Skill Points, Personal Armor and weapon rarity.
As of Season 5, the rarer the weapon, the more base damage it would do, regardless of suffixes. The TR-116A Rifle - Sniper Rifle is always Rare quality.
---
Ground Weapons
Damage Type
Pistol
Rifle
Assault
Melee
&

Other

Expose
Exploit
Expose
Exploit
Expose
Standard Weapons and Special Weapons
Antiproton
Disruptor
Phaser
Plasma
Polaron
Tetryon
Unique
 
Elite Fleet Ground Weapons (standard + extra proc)
Damage Type
Pistol
Rifle
Assault
Melee
Physical damage
Expose
Exploit
Expose
Exploit
Expose
Phaser
 
Disruptor
Plasma
 
 
Tetryon
 
 
Polaron
 
 
Antiproton
 
 
Reputation and Lock Box (dual-proc and new proc)
Damage Type
Pistol
Rifle
Assault
Set Items
& Other
Expose
Exploit
Expose
Exploit
Expose
Antiproton
-based
Disruptor
-based
Phaser
-based
Plasma
-based
Polaron
-based
Tetryon
-based
 
 
Unique
 
 
 
 
 
Q's Winter
Wonderland
 
See Also
Fleet Ground Weapons • 23rd Century Ground Weapons • Ground Equipment Sets • Special Ground Weapons
---