T'Pela

T'Pela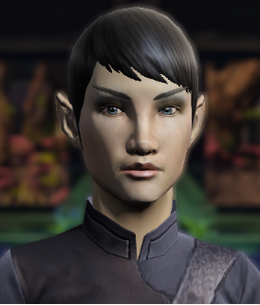 Profession(s):
Information giver
Ambassador
Ambassador T'Pela is a Vulcan diplomat and serves as an aide and later succesor to Ambassador Sokketh.
"Diplomatic Orders": T'Pela contacts the player to inform him of the Undine imposter who has replaced Sokketh.
"Empress Sela": T'Pela is present at Sela's peace conference. She expresses gratitude on behalf of the Vulcan people for the player's actions in the Sokketh affair. She believes the Romulans unfairly blame the Vulcan Science Academy for the Hobus supernova, even though Ambassador Spock warned them prior to the destruction of Romulus. She is evacuated by Tokath when the player discovers and destroys thalaron weapons Sela was planning to use to destroy Vulcan.
"The Temporal Front": T'Pela is present at the Alliance Summit on New Romulus.