Sytel

Sytel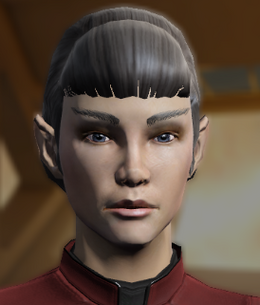 Profession(s):
Information giver
Ensign Sytel is a Vulcan Starfleet Tactical officer serving as a security officer aboard the U.S.S. Madison.
"Beyond the Nexus": Sytel speaks to the player and Captain Geordi La Forge in Ten Forward aboard the Madison. She informs them that she believes their arrival on the Madison has significantly increased their odds of survival. Later, she helps the player and La Forge retake the bridge.
While Sytel identifies herself as an Ensign, she wears the uniform of an enlisted Crewman, and does not wear rank pips.