As part of the Unified Community Platform project, your wiki will be migrated to the new platform in the next few weeks. Read more here.
Starbase 1

Starbase 1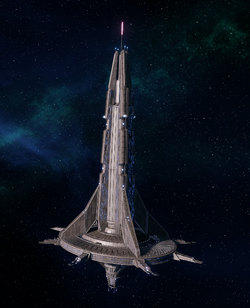 Starbase 1 is a Federation starbase located in the Sol System in 2256. It is located 100 au from Earth.
The exact location of Starbase 1 is not established on-screen. It orbits a planetoid with a moon and is even shown to be far out in the solar system in Sector Space, but the name of the planet is not revealed. Considering that its distance is stated to be 100 au from Earth on Star Trek: Discovery, the starbase may orbit one of the many icy dwarf planets found in the scattered disc of the solar system.
---
---