Snowman Overlord
Snowman Overlord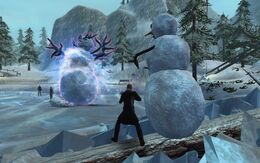 The Snowman Overloard is the leader of the Snowmen of Q's Snow Monsters who reside in Q's Winter Wonderland.
"Snowball Fight!": The Snowman Overlord appears during the final phase of a Snowman attack on the Winter Wonderland.
"Cones of Conduct": The Snowman Overlord leads an attack on the Gingerbread Village in the Winter Wonderland, and is defeated by the Snow-Conian.