Snosk

Snosk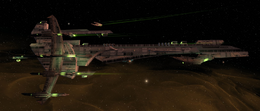 See also Breen Capital Ship for hull strength, abilities, and weapons.
Snosk is a Breen Capital Ship that can be found when aiding a Deferi Patrol ship in the Orellius Sector Block, usually near Defera System or Deferi Outpost 3. It is a rare spawn, and destroying it is optional.
Like the other Breen capital ships Desna and Istapp, it has several Bleth Choas Fighters that accompany it.
Unlike Desna and Istapp, Snosk can only be found when attempting "Aiding the Deferi (Daily)" as there is not a non-combat version. It will be identified as Breen Capital Ship "Snosk".
Destroying all three Breen capital ships completes the Breen Capital Punishment accolade.
Snosk (Snösko) is Swedish for "snowshoe".