As part of the Unified Community Platform project, your wiki will be migrated to the new platform in the next few weeks. Read more here.
Sirella

Lady Sirella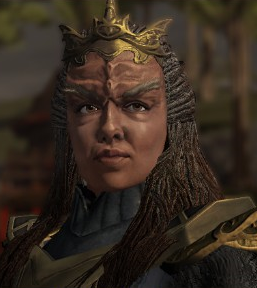 Profession(s):
Mission giver
Lady Sirella is the head of the Klingon Great House of Martok since the apparent death of her husband, Chancellor Martok, in 2393.
"New Featured Episode: Brushfire": Sirella visits General Rodek, who is preparing the I.K.S. Kor to depart on a mission to rescue Martok from the Son'a, having helped him plan the operation before it was presented to J'mpok and the High Council. She urges Rodek to, if it comes to it, send his ship to the edge of the Briar Patch to make Torg pay for the death of M'ven.
Sirella's cranial ridge pattern and skin complexion in Star Trek Online are substantially different from how they are depicted on

Star Trek: Deep Space Nine

. With the Fall 2020 Year of Klingon update, she will be replaced with an updated model more accurate to her appearance in Deep Space Nine, and will be voiced by Shannon Cochran, her live-action portrayer.
---