Serassh

Serassh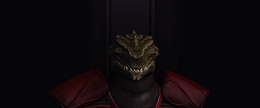 Military Rank:
Lieutenant Commander
Profession(s):
Science Officer
Lieutenant Commander Serassh is the Gorn Science Officer aboard the I.K.S. Bortasqu'. He is a specialist in mineralogy and archaeology.
Despite being a ship of battle, the I.K.S. Bortasqu' has many scientific resources at its disposal. Lieutenant Commander Serassh is in charge of deploying these resources, such as sensors and probes, as well as advising Captain Koren on various spatial anomalies.
Serassh was born on the Gorn research colony of Gila III.
He became a subject of the Klingon Empire after Gila III surrendered in the aftermath of the bombardment and subjugation of Gila IV in the Klingon-Gorn War.
After the annexation of the Hegemony, he served on various ships of the Empire as science officer.