As part of the Unified Community Platform project, your wiki will be migrated to the new platform in the next few weeks. Read more here.
Sena
Timeline Change Imminent!

---

This article or section contains information that no longer applies to the current version of Star Trek Online. It is provided only for historical purposes.
"Greetings, brave Federation warrior!" - Sena's friendly welcome in "Saturday's Child"

Sena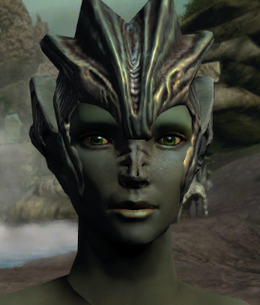 Profession(s):
Information giver
Sena is the Aelasan Princess that is greeting the landing party on Aelas IV. She is the daughter of the Elder Chief.
Princess Sena is well-acquainted with the legends of her people and reveres King Aelas.
She also knows about the topaline deposits on Aelas IV.
Sena is friendly towards the Starfleet visitors but frightened by the ridged ones. (2409)
| Level | Standard Difficulty | Advanced Difficulty | Elite Difficulty |
| --- | --- | --- | --- |
| 20 | 2595 | - | - |
"Saturday's Child": After beaming down to Aelas IV the player must escort Princess Sena to the diplomatic conference between her father, Fleet Admiral Leonard James Akaar and Captain Ja'rod and protect her from aggressive KDF landing parties.