Selok
Timeline Change Imminent!

---

This article or section contains information that no longer applies to the current version of Star Trek Online. It is provided only for historical purposes.
Commander Selok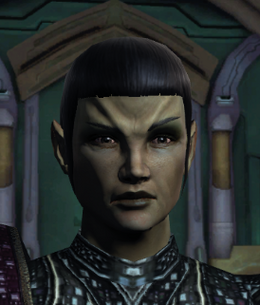 Military Rank:
Romulan Commander
Selok is the Commander of Vendor Station, a Romulan medical research facility in the Vendor System. She claims that while she has heard many stories of Federation hypocrisy and depravity, she never believed them.
"Divide et Impera": In 2409, Commander Selok is killed while trying to defend her station against a Starfleet boarding party. Starfleet Admiral Zelle subsequently reveals herself to be an Undine Infiltrator and manages to escape after assuming Selok's identity.