Savel

Savel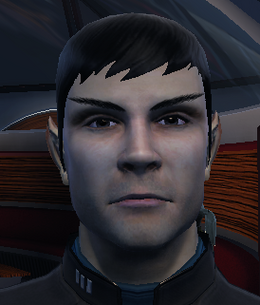 Profession(s):
Chief Medical Officer
Commander Savel is the Vulcan Federation Chief Medical Officer aboard the U.S.S. Enterprise-F.
On each assignment, Savel has encountered patients who found his bedside manner lacking. Although he could, he refuses to change his attitude in the name of professionalism.
Savel chose a medical career over a career in science since he found serving others was not only "the greatest achievement that a being can aspire to", but also compassion for others is inherently logical.
He served on eight starships, six of them as chief medical officer.
"First Contact Day": Savel, along with Tem Inasi and Kyona, visit Bozeman, Montana, on First Contact Day. Savel expresses a distaste for Zephram Cochrane's favorite music, but is interested in the history of Earth's space program. He also reveals that his wife's mother had been a crew member of the T'Plana-Hath, the Vulcan vessel which made First Contact with Cochrane. Tem and Kyona urge him to participate in a competition to build and launch replicas of Cochrane's Phoenix, and Savel agrees, citing the pursuit of infinite diversity in infinite combinations.
Level
Standard Difficulty
Advanced Difficulty
Elite Difficulty
Shields
Health
Shields
Health
Shields
Health
1
146
292
-
-
-
-
A non-interactable version of Savel occasionally spawns in Earth Spacedock's Club 47, where he stands in the Lounge overlooking Earth, sometimes with other members of the Enterprise crew.